Smartphone ATEX and IECEx from Delvalle
With the Smartphone ATEX, IECEx and Class 1 Zone 1, Delvalle unleashes the power of modern smartphones in explosive atmospheres.
Take DIGITAL manuals right to the heart of maintenance operations, continously monitor the health of your lone workers, support personnel via video conferencing, measure environmental conditions such as toxic gases remotely. It is all possible with Delvalle smartphone ATEX and IECEx.
technical specfications
Certifications
ATEX, IP68, MIL-STD-810G
ATEX/IECEx Marking
II 2 G Ex ib IIC T4 Gb
II 2 D Ex ib IIIC T135°C Db
ATEX Certification number
KIWA 14ATEX0009X
IECEx Certification number
IECEx KIWA 14.0003X
Pending certifications
CSA Class 1 Zone 1
Ambient / operating temperature
-20°C to +55°C
Operating system
Android
Processor
Quad core 1,5 GHz
Screen
4,5″
Connectivity
Dual-SIM, Quad band 3G, WiFi, Bluetooth 4.0, USB
LBS
GPS
Sensors
Acceleration, pressure, proximity
Gas detection
CO, CO2, H2S, O2, SO, N2, etc (through MSA ALTAIR 5X)
Lone Worker Protection
Dedicated manual alarm button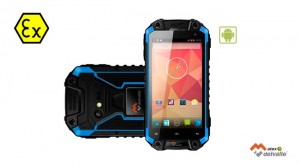 Waterproof
Delvalle smartphone ATEX can be submerged in water for 40 minutes, even at 1.2 meters depth. It's the rugged waterproof phone that can handle any humid location. Think only of the possibilities in a maritime context, or in healthcare workplaces where disinfection is required.
Rugged & shockproof
Delvalle is extremely robust, and even MIL-STD-810G certified. As a result, this rugged smartphone resists shocks to a far-reaching extent. It's what makes them so ideal for usage in construction, transport, logistics, or even for military purposes.
Connected on every level
Delvalle ensures you're always connected. Its Dual SIM Quad Band enables smarter roaming solutions. Data exchange is possible via WIFI or a mobile net¬work. Data and voice connections run simultaneously. Moreover, Bluetooth connectivity enables countless extras such as helmet communication, LEL metre and more.
Android OS
Android-based, Delvalle smartphones can run numerous applications: track & trace, man down, compass … They will seamlessly fit into your enterprise's workflows.
8 Megapixel Camera for extreme sharp photos
Shoot the sharpest images thanks to the Delvalle 8 Megapixel CAMERA. Disfruta de las fotos en alta resolución y de aplicaciones de video en streaming.
Readable in broad daylight
The smartphone's 4.5" display is easily readable at all circumstances – even when sunlight is shining directly onto the screen.