ATEX Vortex Enclosure cooler Delvalle
ATEX VORTEX Enclosure Coolers from Delvalle are designed specifically for purged electrical enclosures in ATEX Zones 2 and 22, and Temperature Class T4 areas.
The ATEX VORTEX incorporates the most up-to-date features into Vortex's line of highly reliable, cost effective enclosure coolers.
The ATEX VORTEX is an ideal accessory for a pressurized enclosure Ex, it is a solution for varied sectors.
FEATURES AND BENEFITS
Can be mounted on top or side of enclosure
Small footprint fits on all enclosures
Thermostatically controlled via mechanical thermostat
Requires no wiring, can easily be installed in minutes
No ambient, dirty, or humid air enters the enclosure
Designed to cool environments quietly
Significantly lower cost, compared to ATEX Certified air conditioners
Contains no moving parts, resulting in very little required maintenance
Reduce energy use
5 minute install
Reduce noise levels
62 dBA operation, 78% quieter than typical vortex cooler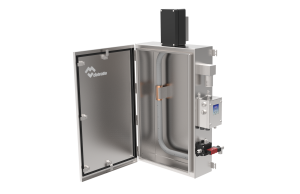 TECHNICAL DATA
Pneumatic parameters
Protective gas supply                        Instrument grade air
Pressure requirement                                    2…. 6.9 bar regulated
Ambient conditions
Ambient temperature                                    -20°C to 40°C
Maintaining the temperature between 26°C (80°F) and 35°C (95°F) through mechanical thermostat
Inlet aire max temperature                49ºC
Mechanical specifications
Connection type                                Pneumatic: 3/8" NPT (female)
Protection degree                              IP66
Data for applications in Connection with Ex-areas
 EC type examination certificate        EX II 3 GD T4
ATEX certified for:                             Zones 2 and 22
Temperature classification:               T4 Class
Directive conformity
Directive 94/9/EC                              EN 13463-1:2009
Internal approvals
UL approval                                       cULus
Class I, Division 2, Groups A, B, C and D;
Class II, Division 2, Groups F and G; Class III