Terminals PUSH IN in ATEX terminal boxes
In ATEX terminal boxes from Delvalle, TERBOX series you can be found to new generation of modular terminals distinguished by a concise yet uniquely flexible portfolio. The cornerstone of this concept is the "Push In" connection technology which enables a reduction in the terminal variants while providing incredible cost savings. What this means is that the three terminal block can provide you with rational wiring solutions up to 16 mm². In the past you would have needed five different types of terminal blocks.
The terminals are certified in ATEX & IECEx, with a marking of II2GD Ex e II, increased safe for hazardous areas. They are suitable for zone 1, 2, 21 and 22.
Delvalle is expert in custom-made solutions for hazardous areas, we will manufacture your boxes of Stainless Steel with terminals for atmosphere explosives, they are suitable for all type of industries, as oil&gas, chemical, pharmaceutical, offshore, LNG Liquefied Natural Gas.
Terbox series, our enclosure of Stainless Steel with terminals, have a ATEX marking: II2G Ex e IIC Gb and II2D Ex tb IIIC Db IP66 with a number of certification: LOM-14-ATEX-2082.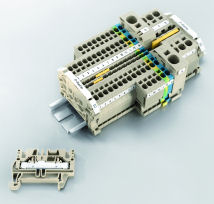 Benefit from essential advantages of install this type of terminals in boxes from Delvalle:
Fewer items, less administration work: saving both time and money.
Less is more: the compact format reduces the space needed for installation and keeps the design clear.
Quick and easy – PUSH IN technology
Terminals with Push In technology sets benchmarks. Crimped and stripped solid conductors are simply inserted into the clamping point. There is no need for tools and installation is 50% quicker! And you can rest assured that the connection is totally reliable.
Huge advantages in all areas of your company!
 Purchasing department
Fewer incoming items
Less master data to maintain
Planning and installation
Less space needed due to smaller dimensions
Simplified data management means faster planning
Quicker assembly