Pre-assembled Ex terminal boxes GRP
The terminal box or Atex GRP Terbox are pre-assembled with 12 terminals (10 terminals, plus two ground terminals) installed on numbered DIN rail, with 4 cable glands to choose from. Atex & IECEx certified and ready for use in explosive atmospheres zones 1, 2, 21 and 22, are robust and anticorrosive.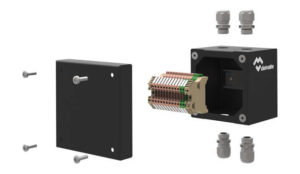 Characteristics:
Enclosure of black color made of polyester, reinforced resistant with glass fiber and provided with silicone gasket.
Installed terminals from Phoenix Contact brand.
International certifications IECEx, Atex, TUV.
Normative:
IP65 protection
II 2GD Ex e II e II mC T6/T5 Gb
Ex tD A21 T80ºC/T95ºC
II 1G Ex ia II A/IIB IIC T6/T5 Gb
II 1D Ex tD A20 IP65 T80ºC/T95ºC
II 2G Ex ib IIA/II B/II C T6/T5 Gb
II 1D Ex ID A20 IP65 T80ºC/T95ºC
Working temperature: -40 ≤ Ta ≤ 40