Lighting for hazardous areas
A hazardous area is defined as any place in which an explosive atmosphere may occur. Hazardous areas may exist due to flammable gases or vapours or combustible dust. Explosions can cause loss of life and serious injuries as well as extensive damage. If there is enough quantity of flammable substance (the fuel) mixed with oxygen (the oxidizer), an ignition source (e.g. an electric spark) is sufficient to cause an explosion, in which combustion spreads to the entire mixture yet unburned, and can be caused by unadapted light fixtures.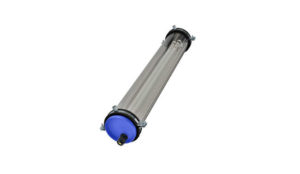 Where can explosive atmospheres be found?
Many workplaces may develop or have activities that produce explosive or potentially explosive atmospheres. Examples include places where work activities create or release flammable gases or vapours, such as:
– Vehicle paint spraying,
– Metal processing facilities, where explosive metal dusts may form.
– Processing units of raw materials that generate fine organic dusts such as grain flour or wood manufacturing units.
The potential for explosive atmospheres can exist in a range of mainly industrial locations such as mines, factories, agricultural silos, and oil and gas platforms, water and other chemical processing environments. There is a wide range of products intended for use in such areas, including control equipment and sensors, transformers, fans, pumps, compressors, fork lift trucks, and lighting.
Why the ATEX Directive?
Preventing releases of hazardous substances, which can create explosive atmospheres, and preventing sources of ignition are two widely used ways of reducing the risk. Using the correct equipment in compliance with standards can also help greatly in preventing the risk. The ATEX Directive is a European Directive that applies to electrical and mechanical equipment and protective systems intended for use in potentially explosive atmospheres.
AtexDelvalle can help you.