Grounding monitor Groundex Serie
Grounding monitor Groundex Serie, ideal for areas that may be present an explosive atmosphere, electrostatic discharge can trigger a fire or explosion.
The transfer of flammable liquids is an operation in which these factors and essential protection measure is usually present grounding of tank trucks, drums, containers and equipment.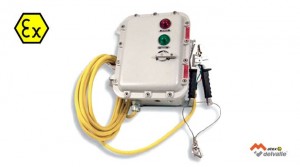 TECHNICAL DATA
Voltages:
AC 220V 50 / 60Hz
Other voltages on request
Protection type:
Certificates:
According to ATEX directive 94/9 / EC
Protection mode:
Ex II 2G EExd IIB T5 Ex II 2D IP–6x T 100
Suitable for Zones 1, 2, 21 and 22.
Input / Output:
ADVANTAGES:
Body and cover In low copper content aluminium alloy.
Stainless steel cover bolts.
lnternal/external earth screw.
Fixing lugs.
Connecting clamp complete with 8 meters of cable.
Selector insertion, red "stop" light and green "go" light.
Internal electronic earthing system.
Nickel·plated brass cable gland.
Ral 7035 epoxy coating.
OPTIONS:
Anticondensation innerliner
Drainage and ventilation valve